Seen us perform a dance and not been sure what either the dance or track is? Well, here are some of our most popular dances and the songs that we dance them to – along with clips on the links to demonstrate – where we could find good ones, including some with a teach: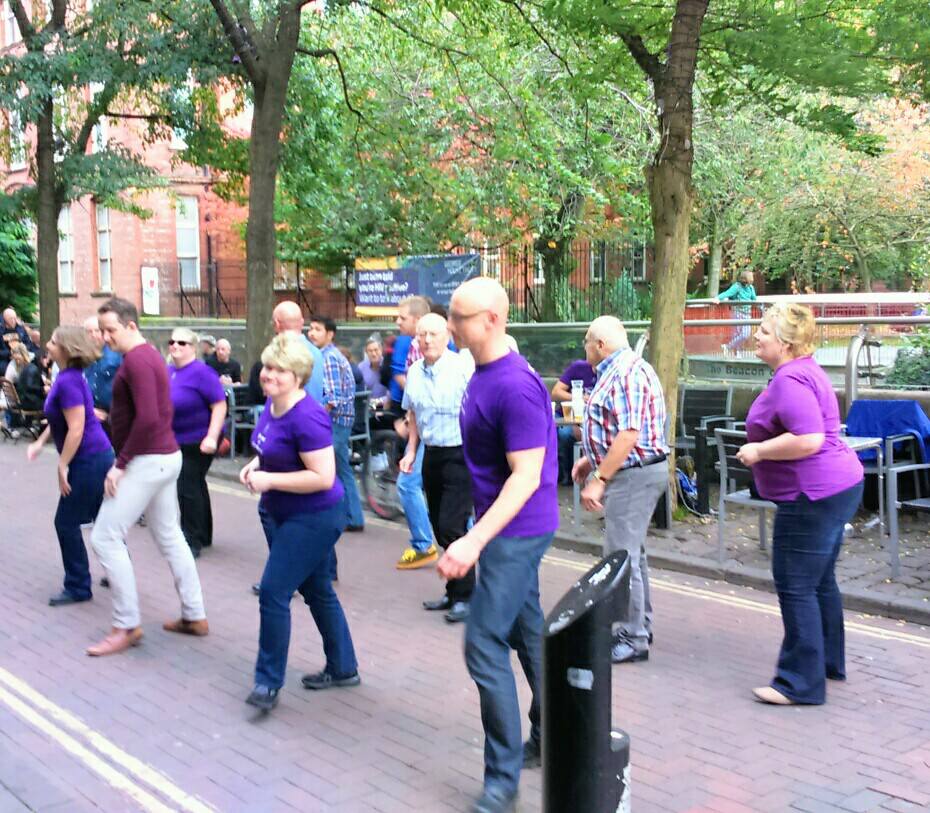 Tush Push – 'Let's Get Happy' (Lou), 'How Do I Live' (Leanne Rimes) or 'Good Girls Love Bad Boys' (Kimber Clayton)
Black Coffee – 'Black Coffee' (Lacy J Dalton) or 'Good Vibrations' (The Beach Boys)
Marvin Gaye – 'Until The Dawn' (Charlie Puth)
T-Bone Shuffle – 'Sunchyme' (Dario G) or 'Zorba's Dance' (LCD)
Stroll Along Cha Cha – 'Light My Fire' (Will Young) 'Here Comes The Rain' (Mavericks)
Vancouver Boogie – 'You Wanna Make Somethin' Of It' (Jo Dee Messina)
Close To You – 'Close To You' (Ryan Rafferty)
Pot Of Gold – 'Dance Above The Rainbow' (Roman Hardiman)
Burning – 'Burnin' (Dolly Parton)
California Freeze – 'When You're Gone' (Bryan Adams ft. Mel C) or 'Rockin Robin' (Lolly)
Quarter After One – 'Need you Now' (Lady Antebellum)
Waltz Across Texas – 'Til You Love Me' (Riba Macintyre)
Calendar Girl – 'Calendar Girl' (Neil Sedaka)
Wave on Wave – 'Wave On Wave' (Pat Green)
CC Shuffle – 'Bing Bang Boom' (Highway 101)
Something In The Water – 'Something In The Water' (Brooke Fraser)
Alcazar – 'Blame It On The Disco' (Alcazar)
Deep River – 'River Deep Mountain High' (Celine Dion)
Speak To The Sky – 'Speak To The Sky' (Brendan Walmsley)
Shania's Moments – 'From This Moment' (Shania Twain)
Haba Haba – 'Haba Haba' (Stella Mwangi)
Dance Dance Dance – 'Can't Stop The Feeling' (Justin Timberlake)
Lonely Drum – 'Lonely Drum' (Aaron Goodvin)
Walk  Alone – 'I Walk Along' (Cher)
Wild Wild West/Western Barn Dance 'Wild Wild West' (Escape Club)
NB – please note that some of the video links to demonstrate  the dances are to different tracks than those that Prairie Dogs dance to – and that some of the dance steps in some dances may differ from those that we do. There are lots of club/regional/national variations, and over the years the Prairie Dogs have made many dances our own!